April 24th, 2013 | Published in Milestone Birthdays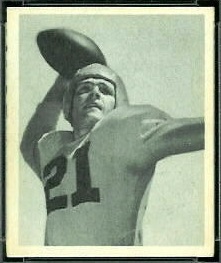 Former NFL quarterback Jim Hardy is celebrating his 90th birthday today. Hardy played from 1946 to 1952 for the Los Angeles Rams, Chicago Cardinals, and Detroit Lions. He played in the first Pro Bowl, after the 1950 season, and he was a member of the Lions team that won the NFL Championship in 1952.
Hardy played college football at USC, leading the Trojans to Rose Bowl wins in 1944 and 1945. He was inducted into the USC Athletic Hall of Fame in 1999.
According to oldestprofootball.com, Hardy is the 66th oldest living American pro football player. He is pictured here on his 1948 Bowman football card.
Happy birthday, Mr. Hardy!