May 2nd, 2013 | Published in Interactive Team Cards, New in the Gallery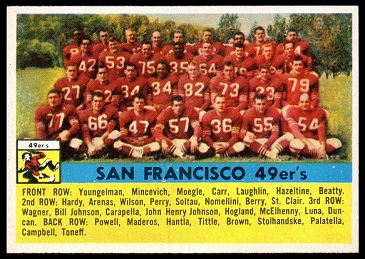 A lot of you liked the interactive 1956 Topps Packers team card I told you about yesterday, so I thought I would knock out another interactive card. This time I did the 1956 Topps 49ers team card. Clicking on the card pictured here will take you to the interactive version.
This card went faster, since most of the players also appear on 1955 49ers team issue photos, and I didn't have to enter the data for them. Only two players, Frank Mincevich and Lowell Wagner, were not already in my database. Also, there are no coaches or staff in the picture, so I didn't have to find their information.
I will work on the remaining 1956 Topps team cards as I have time.