July 16th, 2010 | Published in Football Card Trivia, Sites I Like, Uniforms | 2 Comments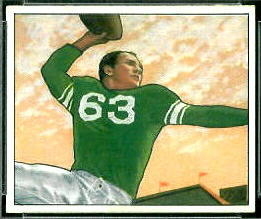 Ever wonder why all of the Baltimore Colts in the 1950 Bowman set are wearing green? Did Bowman take liberties with the team's colors, as Topps did with the Houston Oilers in 1961? (See Houston Oilers: Pretty in Pink.) Did the team change colors from green to blue sometime after 1950?
No, the 1950 Colts were actually a different franchise than today's Colts. The original Colts were members of the AAFC, and they were one of three teams to join the NFL when the AAFC folded after the 1949 season. This Colts team lasted just one year in the NFL before disbanding, and in 1951 the Colts players were made available to the remaining teams via the draft.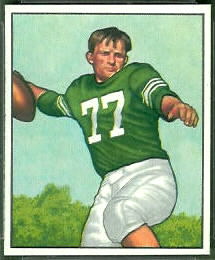 In 1953, the NFL awarded a Baltimore group a new franchise and gave it the remnants of the original Dallas Texans, a franchise that had lasted just one year in Dallas. The new Colts wore blue, and they've worn blue ever since. A nice article by Bob Carroll on the profootballresearchers.com web site traces the lineage of the two Colts franchises and the other AAFC teams.
Pictured here are cards of two of the Colts cards in the 1950 Bowman set, Y.A. Tittle and Chet Mutryn. You can see the entire 1950 Bowman Baltimore Colts team set in the Vintage Football Card Gallery.
Here's a bit of trivia: Besides Y.A. Tittle, what Hall of Fame quarterback played for the Colts in 1950?
Answer: George Blanda. The Bears traded Blanda and four other players to the Colts on September 5. Blanda played in one game for the Colts, and the Bears bought him back on September 20.