September 15th, 2011 | Published in ABCs of Vintage Football Cards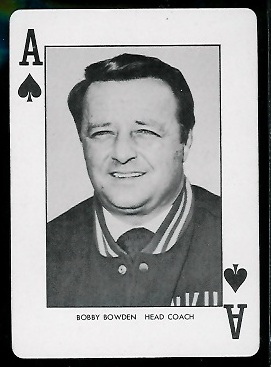 It seems natural to put pictures of football players on playing cards, and I am surprised that not more teams have done it. Playing cards aren't much different from trading cards, and there are close to 54 players on an NFL or college team. Throw in the coaches, cheerleaders, and mascot, and you can easily top off a deck.
A few colleges in the 1970s distributed playing cards of their football teams; I am guessing that one company printed them for most of the schools. You can see the decks I have so far on the Playing Cards page of the Vintage Football Card Gallery. Each time I added a set, I wrote a blog article about it. Here are the links to the articles:
There are several other 1970s college decks out there, and I hope to find them and add them to the Gallery. If you know where I can find any of them, please let me know. These are the decks I know of:
1972 Alabama
1973 Alabama
1973 Auburn
1973 Florida
In addition to the 1970s college cards, I know of two other decks of pre-1980 playing cards that picture football players. The first is 1963 Stancraft playing cards, which were issued in conjunction with the opening of the Pro Football Hall of Fame. The Gallery's 1963 Stancraft playing cards page includes more details about the set. The second is a deck produced by the Littlefuse fuse company; it contains pictures of famous linebackers–and fuses! You can read about the Littlefuse Linebacker playing cards in a previous blog article.