June 3rd, 2013 | Published in Milestone Birthdays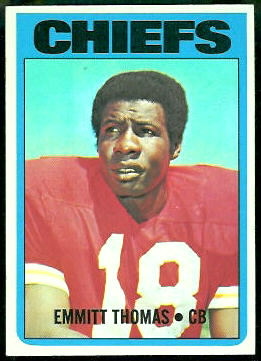 Hall of Fame defensive back Emmitt Thomas is celebrating his 70th birthday today. Thomas played from 1966 to 1978, all for the Kansas City Chiefs. He played in both of the team's two Super Bowls: a loss to the Green Bay Packers in Super Bowl I, and a win against the Minnesota Vikings in Super Bowl IV. He had 58 career interceptions, still a Chiefs record, and he is 11th on the list of all-time interception leaders in the NFL.
After retiring as a player, Thomas began a long coaching career. He is currently the defensive backs coach for the Chiefs, a position he has held since 2010. The 2013 season will be his 33rd as an NFL assistant coach.
Thomas is pictured here on his rookie football card, a 1972 Topps. He appeared on many more cards, as well.
Happy birthday, Mr. Thomas!