May 30th, 2013 | Published in Milestone Birthdays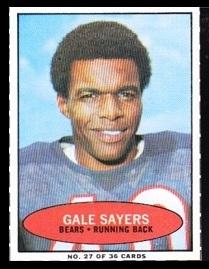 Hall of Fame running back Gale Sayers is celebrating his 70th birthday today. Sayers played from 1965 to 1971 for the Chicago Bears, and he was named first team All-NFL in five of his seven seasons. He led the league in rushing in 1966 and 1969, in yards from scrimmage in 1966, and in all-purpose yards in 1965, 1966, and 1967. In 1965 he also led the NFL in scoring, with 132 points.
Sayers is pictured here on his 1971 Bazooka football card. He appeared on many more cards, stamps, and stickers, as well.
Happy birthday, Mr. Sayers!