May 16th, 2013 | Published in Milestone Birthdays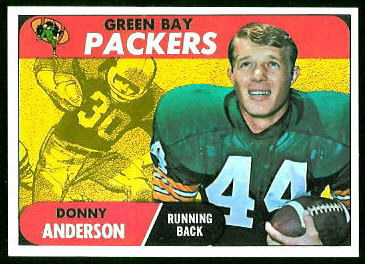 Former NFL running back and punter Donny Anderson is celebrating his 70th birthday today. Anderson played from 1966 to 1974 for the Green Bay Packers and St. Louis Cardinals. He gained over 1000 yards from scrimmage four times, and he made the Pro Bowl with the Packers in 1968. He played on the Packers teams that won the first two Super Bowls.
Before his pro career, Anderson starred at Texas Tech. He is a member of both the College Football Hall of Fame and the Green Bay Packers Hall of Fame.
Anderson is pictured here on his rookie card, a 1968 Topps. He also appeared on at least a dozen more cards, stamps, and stickers.
Happy birthday, Mr. Anderson!