May 4th, 2013 | Published in Milestone Birthdays
Two players in the Vintage Football Card Gallery have just turned 70: Ron Smith's 70th birthday was yesterday, and Jim Butler's is today.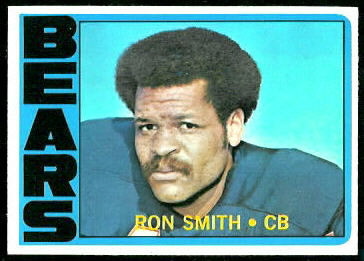 Ron Smith was a defensive back and kick returner in the NFL from 1965 to 1974. He started his career with the Chicago Bears, then went to the Atlanta Falcons, the Los Angeles Rams, the Bears again, the San Diego Chargers, and the Oakland Raiders. In 1966 and 1967, with Atlanta, he led the league in kick return yards. In 1972, with Chicago, he led the league in kick return average. He also made the Pro Bowl in 1972.
Smith is pictured here on his 1972 Topps football card. He appeared on at least seven other cards and stamps, as well.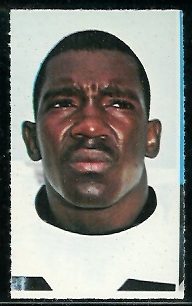 Jim "Cannonball" Butler was a fullback and kick returner from 1965 to 1972 for the Pittsburgh Steelers, Atlanta Falcons, and St. Louis Cardinals. (Coincidentally, he succeeded Smith as Atlanta's kick returner in 1968.) Butler's best season was 1969, when he gained 1357 all-purpose yards: 655 rushing, 297 receiving, and 405 returning kicks. He also made the Pro Bowl in 1969.
Butler is pictured here on his 1969 Glendale stamp. He also appeared on numerous other stamps and cards.
Happy birthday, Messrs. Smith and Butler!