April 27th, 2013 | Published in Milestone Birthdays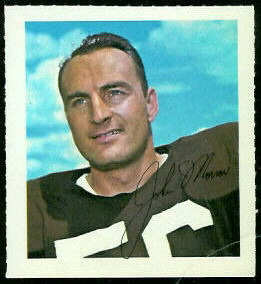 Two players in the Vintage Football Card Gallery are celebrating milestone birthdays today: John Morrow is 80, and J.R. Wilburn is 70.
John Morrow played center from 1956 to 1966 for the Los Angeles Rams and Cleveland Browns. He made the Pro Bowl in 1961 and 1963, and he was the starting center on the Browns team that won the 1964 NFL Championship. According to oldestlivingprofootball.com, Morrow is the 493rd oldest living American pro football player.
For a center, Morrow appeared on a remarkable number of football cards. He is pictured here on his 1964 Wheaties stamp.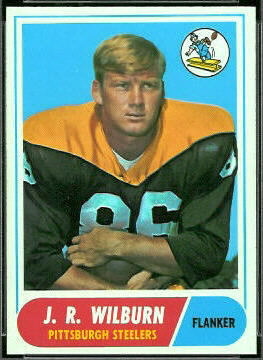 J.R. Wilburn was a receiver for the Pittsburgh Steelers from 1966 to 1970. His best season was 1967, when he caught 51 passes for 767 yards. Wilburn, who grew up in Virginia, was inducted into the Virginia Sports Hall of Fame in 2004.
Wilburn is pictured here on his 1968 Topps card, wearing a Steelers "Batman" jersey. He appeared on several other cards and stamps, as well. (For more on the "Batman" jerseys, see one of my previous articles.)
Happy birthday, Messrs. Morrow and Wilburn!