April 8th, 2013 | Published in Brothers, Milestone Birthdays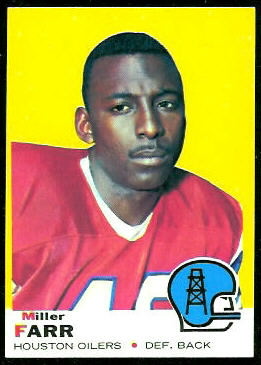 Former AFL, NFL, and WFL defensive back Miller Farr is celebrating his 70th birthday today. Farr played from 1965 to 1973 for the Denver Broncos, San Diego Chargers, Houston Oilers, St. Louis Cardinals, and Detroit Lions, and he finished his career in 1974 with the WFL's Florida Blazers. His best seasons were his three with the Oilers, 1967-1969. He led the AFL with 10 interceptions in 1967, he was voted First Team All-AFL in 1967 and 1968, and he was an AFL All-Star all three years.
Farr's younger brother, Mel, also played in the NFL. The two brothers were teammates with the Lions in 1973. Their cards from that season are featured on the Teammate Brothers page of the Vintage Football Card Gallery.
Farr is pictured here on his 1969 Topps football card. He appeared on several other cards and stamps, as well.
Happy birthday, Mr. Farr!