April 4th, 2013 | Published in Brothers, Milestone Birthdays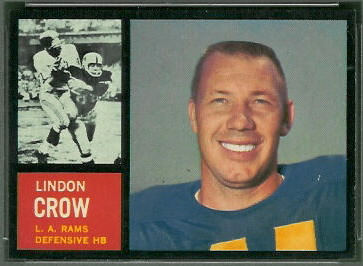 Former NFL defensive back Lindon Crow is celebrating his 80th birthday today. Crow played from 1955 to 1964 for the Chicago Cardinals, New York Giants, and Los Angeles Rams. In 1956, his second season, he led the league with 11 interceptions. He played in two NFL Championship games, both with the Giants, in 1958 and 1959. The Giants lost both games to the Baltimore Colts.
Crow's younger brother, Wayne Crow, also played professional football. He was a halfback and punter for four seasons with the AFL's Oakland Raiders and Buffalo Bills.
Crow appeared on football cards with all three of his NFL teams. My favorite, his 1962 Topps card, is pictured here. You can see the rest of his cards in the Vintage Football Card Gallery.
According to oldestlivingprofootball.com, Crow is the 494th oldest living American pro football player.
Happy birthday, Mr. Crow!