March 27th, 2013 | Published in Milestone Birthdays | 1 Comment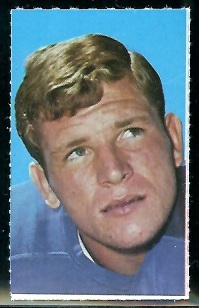 "Mad Dog" Mike Curtis is celebrating his 70th birthday today. Curtis was a star linebacker from 1965 to 1978 for the Baltimore Colts, Seattle Seahawks, and Washington Redskins. He played in two Super Bowls with the Colts: Super Bowl III, which they lost to the New York Jets, and Super Bowl V, in which they beat the Dallas Cowboys. The Associated Press named Curtis first team All-NFL in 1968 and 1969. The Fox Sports Florida web site has a recent story about Curtis, including photos of him with some of his memorabilia.
Curtis is pictured here on his 1969 Glendale Stamp. He appeared on numerous other football cards and stamps, as well.
Happy birthday, Mr. Curtis!