March 23rd, 2013 | Published in Milestone Birthdays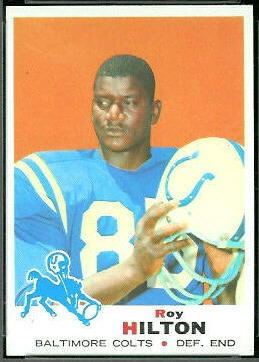 Former NFL defensive end Roy Hilton is celebrating his 70th birthday today. Hilton played from 1965 to 1975 for the Baltimore Colts, New York Giants, and Atlanta Falcons. He was a member of the Colts teams that played in Super Bowls III and V. He got 1 1/2 sacks in Super Bowl V, which the Colts won 16-13 against the Dallas Cowboys.
Hilton is shown here on his rookie card, a 1969 Topps. He appeared on a few more cards, as well.
Happy birthday, Mr. Hilton!