March 21st, 2013 | Published in Milestone Birthdays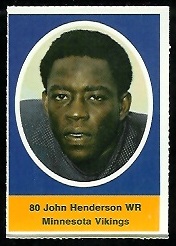 John Henderson, a wide receiver from 1965 to 1972 for the Detroit Lions and Minnesota Vikings, is celebrating his 70th birthday today. Henderson's best seasons were 1969 and 1970, when he gained over 500 yards each season. He was the leading receiver in Super Bowl IV, with 7 receptions for 111 yards. It wasn't enough: the Vikings lost to the Kansas City Chiefs, 23-7.
Though he played for eight seasons, I don't believe that Henderson appeared on any standard football cards during his NFL career. He did, however, appear on a 1972 Sunoco Stamp, pictured here.
Happy birthday, Mr. Henderson!