March 18th, 2013 | Published in Milestone Birthdays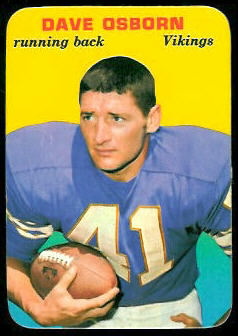 Dave Osborn, longtime running back for the Minnesota Vikings, is celebrating his 70th birthday today. Osborn played for the Vikings from 1965 to 1975, and he finished his career with the Green Bay Packers in 1976. His best season was 1967, when he gained a total of 1244 yards rushing and receiving. Osborn was a member of the Vikings teams that played in Super Bowls IV, XIII, and IV. He scored the team's only touchdown against the Kansas City Chiefs in Super Bowl IV.
Osborn played college football at the University of North Dakota. He was elected to the University of North Dakota Letterwinners Association Hall of Fame in 1977.
Osborn is pictured here on his 1970 Topps Super Glossy football card. He appeared on dozen more cards and stamps, as well.
Happy birthday, Mr. Osborn!