March 15th, 2013 | Published in New in the Gallery | 1 Comment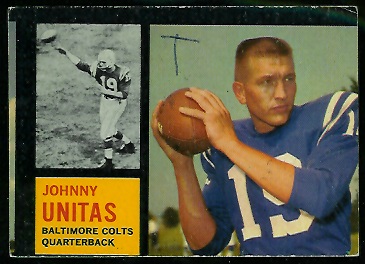 Yesterday, via an eBay purchase, I obtained another card that will help me figure out how 1962 Topps football cards were arranged on uncut sheets. The John Unitas card shown here has a sliver of Bill Forester's card on the left. This bit of information let me add the Unitas to a piece of the uncut sheet I already had. To see where the new piece fit, scroll toward the bottom of the 1962 Topps virtual uncut sheet page of the Vintage Football Card Gallery. Another ten years, and I should have it finished!
For other virtual uncut sheets, some completed and some not, see a previous article, U is for Uncut Sheets.