March 6th, 2013 | Published in Player Deaths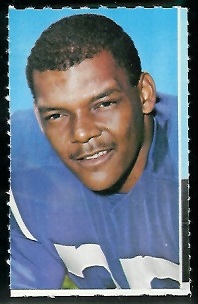 Tony Lorick, a running back from 1964 to 1969 for the Baltimore Colts and New Orleans Saints, passed away on February 17. His obituary and a recent photo appear at grimesfuneralchapels.com. Lorick was a steady contributor with the Colts and Saints: he gained over 600 yards from scrimmage in four of his first five seasons. Before his pro career, Lorick starred at Arizona State University. He was inducted into the ASU Athletics Hall of Fame in 1983.
Lorick is shown here on his 1969 Glendale Stamp. He also appeared on several football cards and a 1969 Saints Doubloon.