March 1st, 2013 | Published in Milestone Birthdays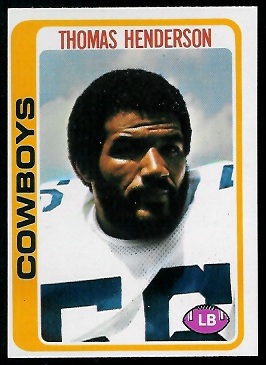 Thomas "Hollywood" Henderson is celebrating his 60th birthday today. Henderson played linebacker from 1975 to 1979 for the Dallas Cowboys, and in 1980 for the San Francisco 49ers and Houston Oilers. He made the Pro Bowl in 1978, and he played in three Super Bowls with the Cowboys. The Cowboys won one of them, Super Bowl XII, against the Denver Broncos.
Henderson now sponsors charitable work for youth in East Austin, Texas, and he has produced books and films to help prevent drug and alcohol abuse. You can read about his work on his official website.
Henderson is pictured here on his rookie card, a 1978 Topps.
Happy birthday, Mr. Henderson!