February 27th, 2013 | Published in Milestone Birthdays
Raymond Berry, the Hall of Fame receiver of the Baltimore Colts, is celebrating his 80th birthday today. Berry played for the Colts from 1955 to 1967, and he was a key player on the Colts' NFL Championship teams of 1958 and 1959. In 1960 he averaged 108 yards receiving per game, an NFL record at the time, and still the 11th-highest all-time average for a season. When he retired from playing, he held the NFL records for both career receptions and career receiving yards. He was inducted into the Pro Football Hall of Fame in 1973.
Berry went on to a long coaching career, including six seasons as the head coach of the New England Patriots. He coached the Patriots to their first Super Bowl appearance, Super Bowl XX, against the Chicago Bears. (The Bears won, 46-10.)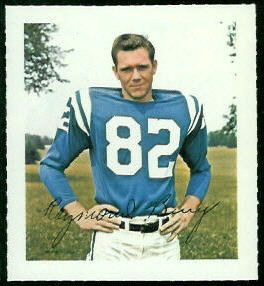 Berry is pictured here on his 1960 Topps football card and his 1964 Wheaties stamp. He appeared on many more cards, as well. (One of them, his 1967 Philadelphia card, actually pictures Bob Boyd.)
According to oldestlivingprofootball.com, Berry is the 494th oldest living pro football player.
Happy birthday, Mr. Berry!