February 23rd, 2013 | Published in Milestone Birthdays | 1 Comment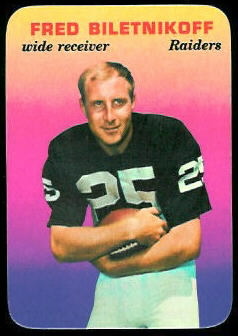 Fred Biletnikoff, the great Oakland Raiders wide receiver, is celebrating his 70th birthday today. Biletnikoff played 14 seasons for the Raiders, from 1965 to 1978. He played in Super Bowl II against the Green Bay Packers, and he was the MVP of Super Bowl XI, in which the Raiders beat the Minnesota Vikings. After retiring as a player, Biletnikoff went on to a long coaching career, including 18 more seasons with the Raiders. He was inducted into the Pro Football Hall of Fame in 1988, and into the College Football Hall of Fame in 1991.
Biletnikoff is pictured here on one of my favorite football cards, a 1970 Topps Super Glossy insert card. He appeared on over twenty more cards and stamps, as well. You can see the whole array in the Vintage Football Card Gallery.
Happy birthday, Mr. Biletnikoff!