February 22nd, 2013 | Published in Milestone Birthdays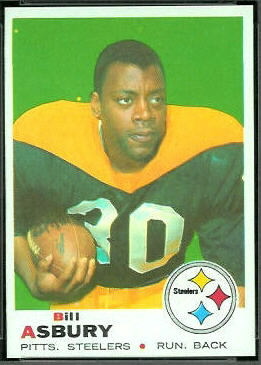 Bill Asbury is celebrating his 70th birthday today; he was a running back from 1966 to 1968 for the Pittsburgh Steelers. Asbury's best season was his rookie year, 1966, when he gained 772 yards from scrimmage and scored 9 touchdowns. In 1967, Asbury and Dave Osborn tied for the NFL's longest run of the season, 73 yards.
Asbury is pictured here on a 1969 Topps card, wearing the Steelers' "Batman" jersey. He also appeared on at least three other cards and stamps. You can read about the Batman jerseys in one of my previous blog articles.
Happy birthday, Mr. Asbury!