February 19th, 2013 | Published in Player Deaths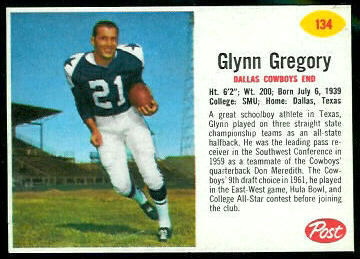 Glynn Gregory, who played for the Dallas Cowboys in 1961 and 1962, passed away on February 14. Gregory's obituary, including a recent photo, appears at dignitymemorial.com. Before his professional career, Gregory starred at Southern Methodist University, where he was a teammate of Don Meredith. He was elected to the SMU Athletics Hall of Fame in 1984.
Gregory appeared on one football card, the 1962 Post Cereal card pictured here.