February 16th, 2013 | Published in Milestone Birthdays | 1 Comment
Two players in the Vintage Football Card Gallery are celebrating milestone birthdays today: Elbert Dubenion is 80, and Brig Owens is 70.
Elbert "Golden Wheels" Dubenion, a flanker, played his entire career with the Buffalo Bills in the AFL. He was one of the original Bills in 1960, and he stayed with the team until 1968. Dubenion was AFL All-Star in 1964, and he was elected to the Bills Wall of Fame in 1993. Before his pro career, Dubenion starred at Bluffton University, and there is a nice article about him on the school's web site. According to oldestlivingprofootball.com, Dubenion is the 494st oldest living pro football player.
Dubenion is pictured here on his 1963 Fleer football card. He appeared on many other Fleer and Topps cards, as well.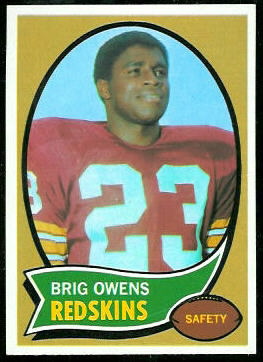 Brig Owens, a defensive back, played from 1966 to 1977 for the Washington Redskins. He is second on the Redskins all-time leaders list for interceptions, behind Darrell Green. The team has named Owens one of the 80 Greatest Redskins, and he is member of the Redskins Ring of Fame.
Owens is pictured here on his 1970 Topps football card. He also appeared on several other cards and stamps during his career.
Happy birthday, Messrs. Dubenion and Owens!