February 5th, 2013 | Published in Milestone Birthdays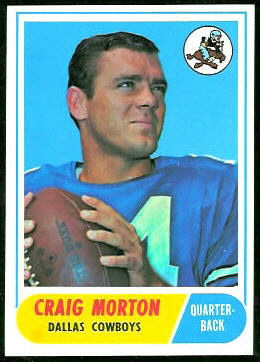 Craig Morton, who played from 1965 to 1982 for the Dallas Cowboys, New York Giants, and Denver Broncos, is 70 today. Morton was the starting quarterback for two Super Bowl teams, the 1970 Cowboys and 1977 Broncos, and he played on the 1971 Cowboys team that won Super Bowl VI. He was inducted into the Broncos Ring of Fame in 1988.
Prior to his pro career, Morton starred at the University of California. In 1964, though Cal had just a 3-7 record, he finished seventh in voting for the Heisman Trophy. (See my Football Cards of Heisman Trophy Candidates page.) Morton was inducted into the College Football Hall of Fame in 1992.
The card pictured here is Morton's rookie card, a 1968 Topps. The back of the card is a piece of a puzzle picturing Bart Starr. Morton also appeared on many other cards and stamps during his long career. You can see all of his cards up to 1978 in the Vintage Football Card Gallery. (It's odd to see someone other than John Elway wearing #7 for the Broncos, isn't it?)
Happy birthday, Mr. Morton!