February 3rd, 2013 | Published in Milestone Birthdays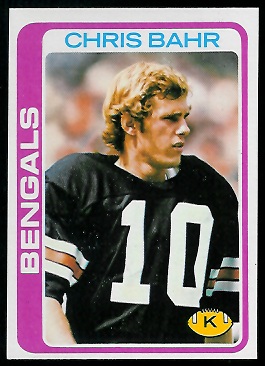 Chris Bahr, a longtime kicker in the NFL, is celebrating his 60th birthday today. Bahr played from 1976 to 1989 for the Cincinnati Bengals, Oakland/Los Angeles Raiders, and San Diego Chargers. He played on two Super Bowl Championship teams with the Raiders, in 1980 and 1983. Before his NFL career, Bahr played one season for the Philadelphia Atoms of the North American Soccer League, and he played on the U.S. National soccer team in the qualifying rounds for the 1976 Olympics. Bahr's younger brother, Matt Bahr, also played in the NASL and NFL.
Bahr is pictured here on his 1978 Topps football card. He also appeared on a 1977 Topps card, and on many cards after 1978. I don't have his newer cards yet, but you can find them on eBay.
Happy birthday, Mr. Bahr!