January 30th, 2013 | Published in Milestone Birthdays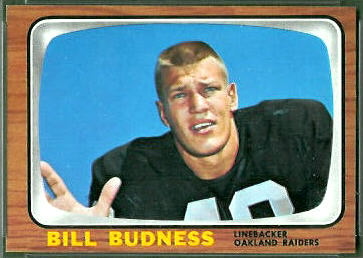 Bill Budness, who played linebacker for the Oakland Raiders from 1964 to 1970, is 70 years old today. Budness was a member of the Raiders team that won the 1967 AFL Championship and played in Super Bowl II against the Packers. He played college football at Boston University, and he is a member of the BU Athletics Hall of Fame.
Budness appeared on one football card with the Raiders, the 1966 Topps card pictured here.
Happy birthday, Mr. Budness!