January 18th, 2013 | Published in Milestone Birthdays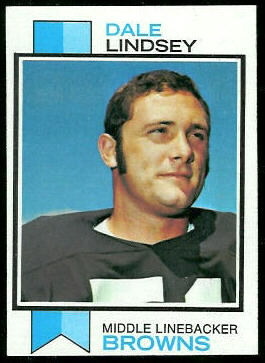 Former NFL linebacker Dale Lindsey turned 70 today; he played from 1965 to 1973 for the Cleveland Browns and New Orleans Saints. After his playing career, Lindsey became a coach, and he has had many coaching positions in colleges and the pros. (See the full list on the right side of his Wikipedia page.) Just three weeks ago, he was named head coach at the University of San Diego, a position recently held by 49ers coach Jim Harbaugh.
Lindsey appeared on one football card as a player, a 1973 Topps card, issued in his last NFL season. Though the card shows him with the Browns, Lindsey played for the Saints in 1973. Lindsey also appeared on a couple of NFL stamps while still with the Browns. You can see those on his page in the Vintage Football Card Gallery.