January 17th, 2013 | Published in Milestone Birthdays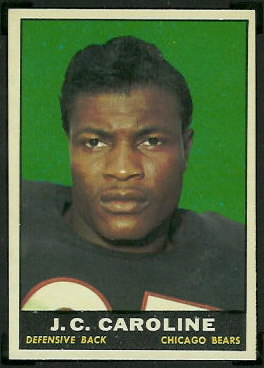 J.C. Caroline, who played defensive back for ten seasons with the Chicago Bears, is 80 years old today. Caroline made the Pro Bowl in his rookie season, 1956, and he collected 24 interceptions in his career with the Bears. He also played running back and returned kicks his first three seasons. He was a member of Chicago's 1963 NFL Championship team.
In 1953, his sophomore year at Illinois, Caroline led the nation in rushing, and he finished seventh in voting for the Heisman Trophy. (See my page of football cards of Heisman candidates.) He was elected to the College Football Hall of Fame in 1980.
The card shown here is Caroline's 1961 Topps football card. He also appeared on several other cards, which you can see on his page in the Vintage Football Card Gallery.
According to the Oldest Living Pro Football Players web site, Caroline is the 491st oldest living pro football player.
Happy birthday, Mr. Caroline!