January 15th, 2013 | Published in Milestone Birthdays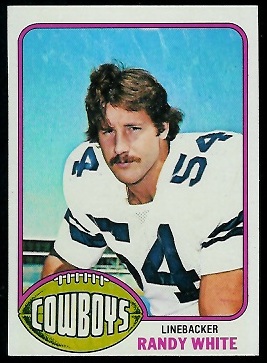 Randy White, the great Dallas Cowboys defensive tackle, turned 60 today. White played for the Cowboys from 1975 to 1988, and he was first team all-NFL seven times in that span. He played in three Super Bowls, and he was a co-MVP in Super Bowl VII, in which the Cowboys beat the Denver Broncos. (He shared the honor with teammate Harvey Martin.) White was elected to the Pro Football Hall of Fame in 1994.
In 1974, at the University of Maryland, White won the Outland Trophy, awarded to "the nation's most outstanding interior lineman." He also placed ninth in voting for the Heisman Trophy in 1974.
The card pictured here is White's rookie card, a 1976 Topps. You can see more cards of Outland Trophy winners and Heisman Trophy candidates in the Vintage Football Card Gallery.