January 14th, 2013 | Published in Milestone Birthdays, Oddball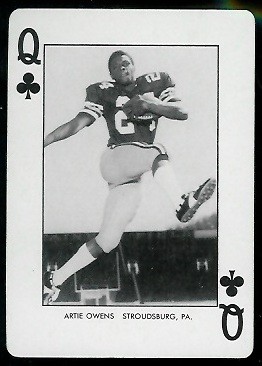 Artie Owens is 60 years old today; he was a wide receiver and kick returner from 1976 to 1980 for the San Diego Chargers, Buffalo Bills, and New Orleans Saints. He also played one season, 1983, for the Philadelphia Stars of the USFL. Owens played college football at West Virginia University, where he also starred in track. He was inducted into the WVU Sports Hall of Fame in 1997.
As far as I know, Owens did not appear on a football card as a pro, but he did appear on the 1974 West Virginia playing card pictured here. A few of his teammates in the deck of 1974 West Virginia cards made it to the NFL, as well.
Happy birthday, Mr. Owens!