January 12th, 2013 | Published in Milestone Birthdays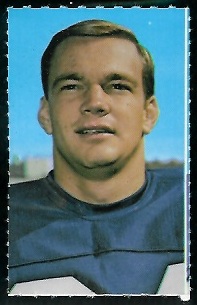 Former New York Giants running back Tucker Frederickson turned 70 today, according to his profile on the NFL web site. The Giants chose Frederickson with the first overall pick in the 1965 NFL Draft, and he played for the team from 1965 to 1971. He made the Pro Bowl once, in his rookie season.
In 1964, at Auburn, Frederickson placed sixth in voting for the Heisman Trophy. (See my page of football cards of Heisman candidates.) He was inducted into the College Football Hall of Fame in 1994.
Frederickson is pictured here on his 1969 Glendale stamp. He appeared on numerous other stamps and cards, as well. You can see all of them in the Vintage Football Card Gallery.
Happy birthday, Mr. Frederickson!