December 12th, 2012 | Published in Player Deaths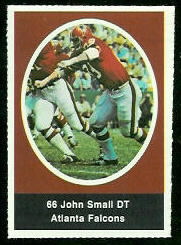 John Small, a defensive tackle and linebacker from 1970 to 1974 for the Atlanta Falcons and Detroit Lions, passed away on December 10. The Charleston Post and Courier has a story about Small, along with a recent photo.
Small did not appear on a regular issue football card, but he did appear on a 1972 Sunoco stamp and a 1972 NFLPA stamp. The Sunoco stamp is pictured here.