December 5th, 2012 | Published in Player Deaths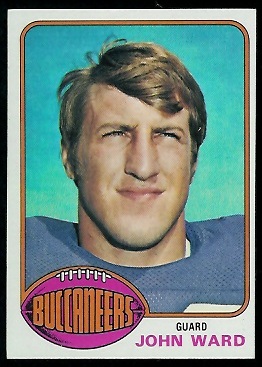 John Ward passed away on December 4; he was a lineman from 1970 to 1976 for the Minnesota Vikings, Tampa Bay Buccaneers, and Chicago Bears. Ward was a member of the Vikings teams who represented the NFC in Super Bowls VIII and IX. There is a story about Ward and a recent picture at newsok.com.
Ward appeared on one football card, the 1976 Topps card pictured here. The card pictures Ward with Tampa Bay, who obtained him from Minnesota in the 1976 NFL Expansion Draft. He played just four games with Tampa Bay, then finished the 1976 season with Chicago.