November 30th, 2012 | Published in Player Deaths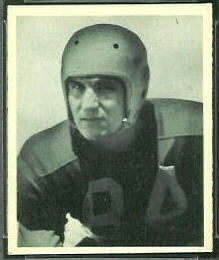 Merv Pregulman, who played from 1946 to 1949 for the Green Bay Packers, Detroit Lions, and New York Bulldogs, passed away on November 29. There is a story about Pregulman, along with a few photos, on Chattanooga's WRCBtv.com web site. Pregulman received All-America honors at the University of Michigan, and he was inducted into the College Football Hall of Fame in 1982. Between college and the NFL, he served in World War II.
Pregulman appeared on one football card, the 1948 Bowman card pictured here.