November 25th, 2012 | Published in Player Deaths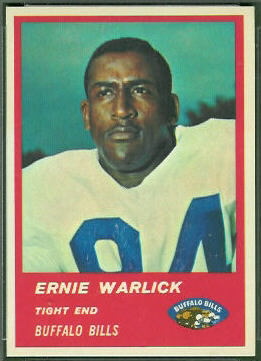 Ernie Warlick, a tight end for the CFL's Calgary Stampeders from 1957 to 1961 and the AFL's Buffalo Bills from 1962 to 1965, passed away on November 24. Warlick was an AFL All-Star all four of his seasons with the Bills, and he was a member of the Bills' 1964 and 1965 AFL championship teams. The Buffalo News web site has a story about Warlick, including a recent photo.
Pictured here is Warlick's 1963 Fleer football card. He appeared on one other AFL card, a 1965 Topps "Tall Boy." He also appeared on several CFL cards with the Stampeders.