October 11th, 2012 | Published in error cards, Player Deaths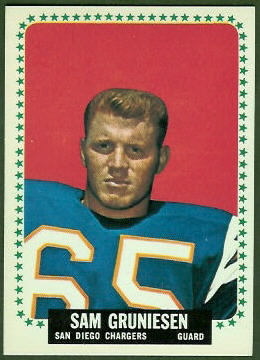 Sam Gruneisen, an offensive lineman from 1962 to 1973 for the San Diego Chargers and Houston Oilers, passed away on September 28. There is a picture of Gruneisen and a summary of his career on the Chargers web site. Gruneisen played in two AFL championship games with the Chargers, in 1964 and 1965, both losses to the Bills. At Villanova, Gruneisen was a tight end, linebacker, and kicker. He was elected to the Villanova Wall of Fame in 2000.
Pictured here is Gruneisen's rookie card, a 1964 Topps. His name, unfortunately, is misspelled "Gruniesen" on the card. He also appeared on a 1966 Topps card–with his name spelled correctly–and on a 1969 Glendale stamp.