September 7th, 2012 | Published in Player Deaths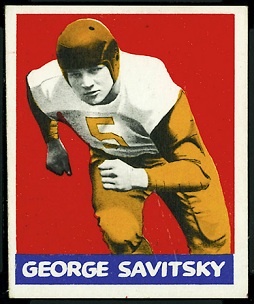 George Savitsky, who played tackle for the Philadelphia Eagles in 1948 and 1949, passed away on September 4. The Eagles won two of their three NFL titles in the seasons that Savitsky played. (Their third championship was in 1960.) Savitsky played college football at University of Pennsylvania, and he was inducted into the College Football Hall of Fame in 1991. He and Chuck Bednarik were teammates both at Penn and with the Eagles. The csnphilly.com web site has a story about Savitsky and a nice photo of him as a player.
The card pictured here is Savitsky's rookie card, a 1948 Leaf. It is one of the scarce high-numbered cards in the set. He also appeared on a 1949 Leaf card (identical to the 1948 Leaf card, except for the back), and on a 1955 Topps All-American card.