August 25th, 2012 | Published in Halls of Fame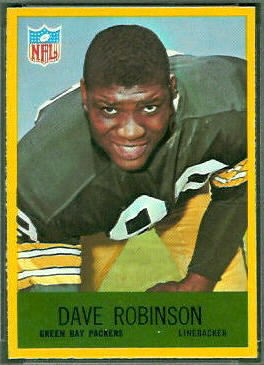 Dave Robinson and Curley Culp were named yesterday as the 2013 senior finalists for induction into the Pro Football Hall of Fame. You can read the announcement and see the players' biographies on the Hall of Fame web site. This is the first time that either player has been chosen as a Hall of Fame finalist.
Robinson, a linebacker, played for the Packers from 1963 to 1972, and for the Washington Redskins in 1973 and 1974. He made the Pro Bowl three times, and he was a member of the Packers' NFL Championship teams of 1965-1967. Robinson's rookie card, a 1967 Philadelphia, is pictured here. He appeared on a number of other cards and stamps, as well.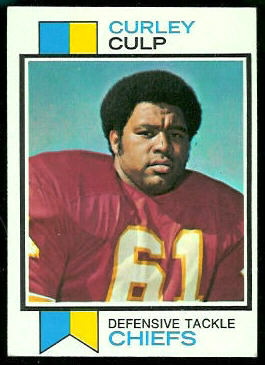 Culp, a defensive tackle, played from 1968 to 1981 for the Kansas City Chiefs, Houston Oilers, and Detroit Lions. He made the Pro Bowl 6 times in his 14 seasons, and he played on the Chiefs team that won Super Bowl IV. Culp's rookie card, a 1973 Topps, is pictured here. Prior to his rookie card, Culp appeared on a 1971 Kellogg's card and a 1972 Sunoco stamp, and he appeared on numerous Topps cards later in his career.
Chances are good that at least one of the two nominees will be elected to the Hall. The Senior Nominees page of the Hall of Fame web site shows that at least one senior candidate has been elected each year since 1998.