August 23rd, 2012 | Published in CFL Cards, Halls of Fame, New in the Gallery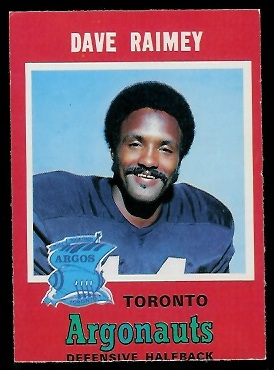 This week I added 1971 O-Pee-Chee CFL football cards to the Vintage Football Card Gallery. One thing I enjoyed about adding the cards was finding a few players who had also played in the NFL or AFL, but who did not appear on NFL or AFL cards. One of them, Dave Raimey, is pictured here. Raimey played for the Cleveland Browns in 1964, then he played ten seasons in the CFL and made the Canadian Football Hall of Fame.
In the notes for the 1971 O-Pee-Chee cards, I identified all of the players who also played in the NFL or AFL. I also marked the players who are members of the Canadian Hall of Fame. Check 'em out!