August 15th, 2012 | Published in Player Deaths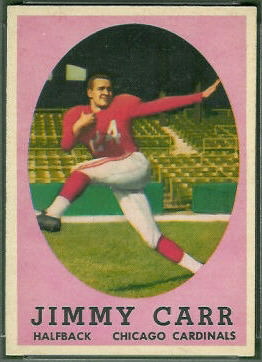 Jimmy Carr, who played nine seasons for the NFL's Chicago Cardinals, Philadelphia Eagles, and Washington Redskins, passed away on August 13. Carr also played one season for the Montreal Alouettes in the Canadian Football League. Carr was a starting defensive back on the Eagles team that beat Vince Lombardi's Green Bay Packers for the 1960 NFL championship. After retiring as a player, Carr was an assistant coach in the NFL, USFL, and NFL Europe for almost thirty years.
Carr is pictured here on his rookie card, a 1958 Topps. Though the card shows him with the Cardinals, 1958 was the season that he played in the CFL. Carr also appeared on a 1962 Post Cereal card, a 1963 Topps card, and a 1960 Eagles team issue photo.