June 19th, 2012 | Published in Player Deaths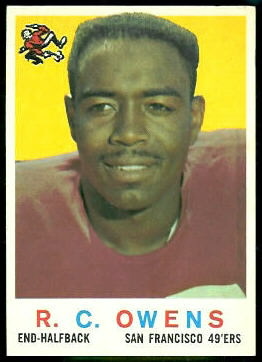 R.C. Owens, 49ers, a receiver from 1957 to 1964 for the San Francisco 49ers, Baltimore Colts, and New York Giants, passed away on June 17. Owens was known for his "alley oop" catches, which you can see him demonstrating on the San Francisco Chronicle web site. Owens was the first 49er receiver with 1000 yards receiving in one season; he accomplished that in 1961. He was inducted into the 49ers Hall of Fame in 2011.
Owens appeared on several football cards with the 49ers. His 1959 Topps card is pictured here. His rookie card, a 1958 Topps, pictures Don Owens, unfortunately.