June 16th, 2012 | Published in Player Deaths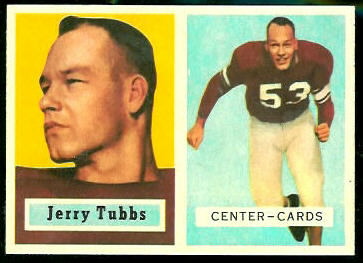 Jerry Tubbs, who played ten seasons for the Chicago Cardinals, San Francisco 49ers, and Dallas Cowboys, passed away on June 15. There is a story and a nice picture of Tubbs on the Tulsa World web site. Tubbs played on two National Championship teams at the University of Oklahoma, and he was inducted into the College Football Hall of Fame in 1996. He was an All-Pro with the Dallas Cowboys in 1962. After retiring as a player, he remained with the Cowboys as an assistant coach for over two decades.
Tubbs appeared on a lot of football cards during his NFL career. His rookie card, a 1957 Topps, is pictured here. You can see the rest of Tubbs's cards in the Vintage Football Card Gallery.