May 24th, 2012 | Published in Player Deaths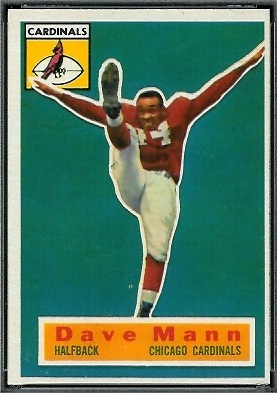 Dave "Super" Mann, who played three seasons for the NFL's Chicago Cardinals and twelve seasons for the CFL's Toronto Argonauts, passed away on May 22. At various times in his career, Mann was a running back, defensive back, receiver, punter, kicker, and kick returner. In 1958, he and Boyd Carter combined to return a missed field goal 131 yards, still a CFL record. Mann also had the third-longest punt in CFL history, a 102-yarder. The Toronto Star web site has a summary of Mann's career.
Mann appeared on two NFL football cards and numerous CFL cards. His rookie card, a 1956 Topps, is pictured here. I don't yet have all of his CFL cards, but you can see his 1962 and 1963 Topps CFL cards in the Vintage Football Card Gallery.