April 13th, 2012 | Published in Football Card Trivia, Silly Stuff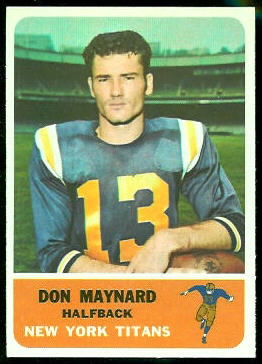 When I realized that today was Friday the 13th, I tried to think of players on vintage football cards who wore number 13. Don Maynard is the most famous player I came up with; he is pictured here on his 1962 Fleer card. Do any others come to mind? Dan Marino wore number 13, but his rookie card is a 1984 Topps, and I wouldn't call it a vintage card.
Don Maynard had a long career with the New York Titans/Jets, but did you know that he spent his rookie year with the New York Giants? You can see him, wearing number 13, on the 1959 Topps Giants team card. Maynard played for the Giants just one season, 1958, but Topps used the Giants' 1958 team photo on cards from 1959 to 1963. So, from 1961 to 1963, Maynard appeared on cards from both New York teams!