February 14th, 2012 | Published in Player Deaths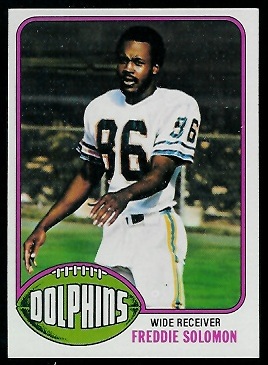 Freddie Solomon, a wide receiver from 1975 to 1985 for the Miami Dolphins and San Francisco 49ers, passed away yesterday. Solomon was a member of the 49ers' NFL Championship teams of 1981 and 1984. His best season was 1981, when he gained 1012 combined yards rushing and receiving. Playing quarterback at the University of Tampa, Solomon gained 3299 yards rushing, then an NCAA record for a quarterback. There is a picture of him in action on the University of Tampa web site.
I have just one Freddie Solomon card, his 1976 Topps rookie card, pictured here. He also appeared on many newer cards that I don't yet have in the Gallery. You can find most of them on eBay.