January 28th, 2012 | Published in Halls of Fame, New in the Gallery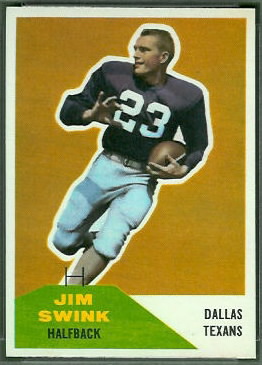 I hope you like this feature, because it took me awhile: I identified all of the players in the Vintage Football Card Gallery who are members of the College Football Hall of Fame. You can do a search for all of the College Hall of Famers, all of the College Hall of Famers from a certain college (say Ohio State), or all of the College Hall of Famers from a certain pro team (say the Los Angeles Rams). Use the Gallery's Advanced Search page to specify whatever combinations you like.
What I like most about this feature is that it highlights some cards that you typically find in the commons bin. Some players with stellar college careers had short or not-as-stellar pro careers, and you wouldn't know from their cards how good they were in college. The player pictured here is one example: Jim Swink was runner-up to Howard Cassady for the Heisman Trophy in 1955, and he was elected to the College Hall of Fame in 1980. Swink played pro football for just one season–1960 for the AFL's Dallas Texans–and this 1960 Fleer card is his only football card.