January 24th, 2012 | Published in Player Deaths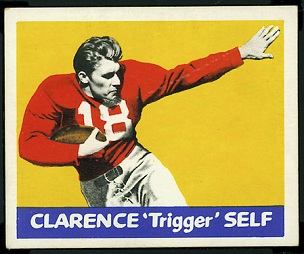 Clarence Self, a back from 1949 to 1955 for the Chicago Cardinals, Detroit Lions, and Green Bay Packers, passed away on January 21. Self played college football at Wisconsin, and he still holds the school record for kickoff return yards in a game, with 178.
Self appeared on one football card, the 1948 Leaf card pictured here, while still at Wisconsin. It is one of the scarce high-numbered cards in the set. 1948 Leaf cards were printed on two sheets, one holding cards 1-49 and the other holding cards 50-98, and Leaf apparently printed the second sheet in much smaller quantities. The Self card is number 78.