January 1st, 2012 | Published in Football Card Trivia, Halls of Fame, New in the Gallery | 1 Comment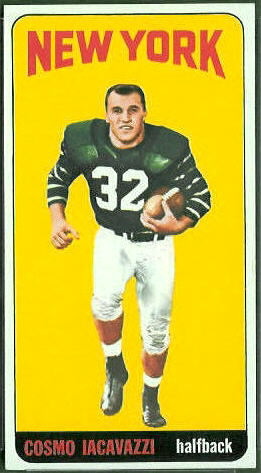 Happy New Year, everyone! Time to start those diets, budgets, and exercise programs! But it's okay to wait until tomorrow–it's a holiday, right?
I was thinking about what I want to accomplish in 2012 in the Vintage Football Card Gallery, and I decided that my goals follow two themes. The first theme is to finish some of the things I have already started. For example, last year I started identifying players who are in the College Football Hall of Fame, but I haven't finished because there are way more of them than I thought. On the other hand, in the process of identifying the College Hall of Famers, I have learned some interesting things about them. Did you know, for instance, that Cosmo Iacavazzi, who played in only two games professionally, led the nation in scoring at Princeton in 1963? I love uncovering nuggets like that.
Which brings me to my second theme: doing more with the cards I already have. The Gallery now contains pictures of most of the vintage football cards out there, so now I can work more on depth than breadth. One thing I have started doing in this area is adding trivia for each card. Going back to Mr. Iacavazzi: did you ever notice that his 1965 Topps card pictures him in his college uniform, recolored Jets green? Until yesterday, I didn't, either, but as I learn such things, I will make note of them. (For more examples, see the 1953 Rams Team Issue cards I recently added to the Gallery.)
Of course, as well as looking ahead to the new year, we should look back and remind ourselves of what we accomplished in 2011. This morning I took a quick look through my "New in the Gallery" blog articles, and it was gratifying to see all of the new cards and virtual uncut sheets I was able to add over the year. Most gratifying, I think, is that I had so much fun doing it.
Enjoy your collections, keep in touch, and have a terrific 2012!