December 24th, 2011 | Published in Player Deaths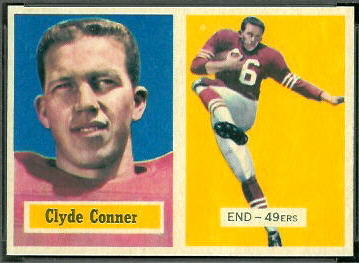 Clyde Conner, an end for the San Francisco 49ers from 1956 to 1963, passed away on December 12. There is an article about Conner on the San Francisco Chronicle web site. Connor's best season was 1958, when he caught 49 passes for 512 yards and 5 touchdowns.
The card shown here is Conner's rookie card, a 1957 Topps, issued in his second season. He would appear on several more cards in his career, and on at least one team issue photo. You can see all of Clyde Conner's cards in the Vintage Football Card Gallery.