November 30th, 2011 | Published in Player Deaths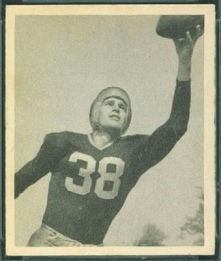 Nolan Luhn, an end for the Green Bay Packers from 1945 to 1949, passed away on November 27. The whiotv.com web site has a short report.
To my knowledge, Luhn appeared on just one football card, the 1948 Bowman card pictured here. 1948 Bowman cards with numbers divisible by 3 were short-printed, and Luhn's card, number 9, is one of the scarcest cards in the set. See my 1948 Bowman virtual uncut sheet page for details.